On Monday, teachers in Chicago went on strike for the first time in 25 years. The strike was provoked by a dispute with Chicago Mayor Rahm Emanuel regarding changes to general policy and reforms to teacher evaluations. The Chicago strike is sure to affect teachers all over the country and will likely become an important issue this election season. Not only is Emanual Obama's former chief of staff, the president is hoping to court the union vote in hopes of reelection.  These issues also reflect problems with the education system as a whole. Almost everyone agrees that the education system is in need of change, but exactly what should be done is still up for debate. 
The Union is Not the Enemy
One of the most important issues to remember about this dispute is that it began before Mayor Emanuel was even elected. While campaigning, Emanuel promised to lengthen Chicago's school day by 90 minutes and to add days to the school year. Chicago is home to one of the country's largest public school systems, yet the city has one of the shortest school days. However, the problem is not simply in extending the school day and academic year, but in how the mayor went about this change. It's clear that he did not consult teachers in this matter, and when the district faced a budget shortage Emanuel rescinded 4 percent raises for teachers that had already been agreed upon. To get around union opposition to the extended days, he offered schools that waived the contract bonuses for having the longer days. It's not hard to see why teachers would be against working more for less pay – the plan is the equivalent of working a Saturday for free – especially when Emanuel chose to circumvent the union rather than work with it. 
This is just the latest in a recent pattern of politicians who demonize unions. Perhaps the largest controversy to date involved Wisconsin Governor Scott Walker, who worked to break down unions' collective bargaining rights in the state. Unions are painted as anti-progress and greedy. Teachers unions in particular are often blamed for students' poor performance. But a recent study found that education systems in the US faced similar problems with student performance with or without unions.
The subject of unions will definitely dominate the conversation on the campaign trail. After the strike began, Romney was quick to criticize the teachers union, stating that they did not have the students' best interest at heart. He also made sure to associate Obama with the union which is, according to Romney, "in conflict with our children." In reality, Obama has yet to comment on the situation in Chicago.  The strike in Chicago only reinforces the need for unions, since the teachers were facing longer days with no additional compensation.
Merit-Based Teacher Pay: It's Just Not a Good Idea
At the heart of the debate in Chicago and across the country is merit-based teacher pay. The new state-mandated evaluation system in Illinois calls for standardized test scores to account for 25 percent of a teacher's job performance rating. Emanuel hopes to raise that to 40 percent in the coming years. Though he is relying on the union vote for reelection, the Obama administration has also encouraged states to adopt merit-based pay through the Race to the Top Program. Merit-based teacher pay keeps popping up in discussions about education and, though it may seem like a logical solution, it just will not work. 
Teachers have been vocal in their opposition to this policy – not because they do not want to perform, but because student performance is not a cut and dry situation. As the Chicago Teachers Union President Karen Lewis points out, "There are too many factors beyond our control which will impact on how some of our students perform on those standardized tests…Poverty — which no one wants to talk about — exposure to violence . . . homelessness, hunger and other social issues beyond our control. Evaluate us on what we do, not the lives of our children that we do not control." These issues are often ignored, but they are vital to a student's performance. How can we expect them to complete their homework if they're worried about their next meal? 
Merit-based teacher pay also results in a lower quality of education. In this system, teachers are urged to teach to the test, avoiding any information that students will not have to answer multiple questions about. School funding often depends on it, along with a teacher's individual salary. Teachers are often left feeling burnt out and disillusioned while students pay the ultimate price and lose out on a well-rounded education.
Some, like Nicholas Kristof of The New York Times, also argue that districts should do away with tenure as well as adopt merit-based pay so that, like other professions, incompetent employees are weeded out. There's a problem, though: teaching is not like every other profession. I would argue that teaching is not like any other profession. It cannot be run like a business because the business model just does not translate in education. The goal of education is not, and cannot be to produce a perfect product because it deals with people. Getting rid of tenure will not solve the problem of poor student performance because tenure does not work to protect incompetent teachers. Contrary to popular belief, tenure does not make it impossible to fire low-performing teachers. It protects good teachers by ensuring that districts do not get rid of experienced, higher-paid teachers in favor of newer teachers who can be hired at less pay – which, if we decide to run education like any other business, is likely to happen.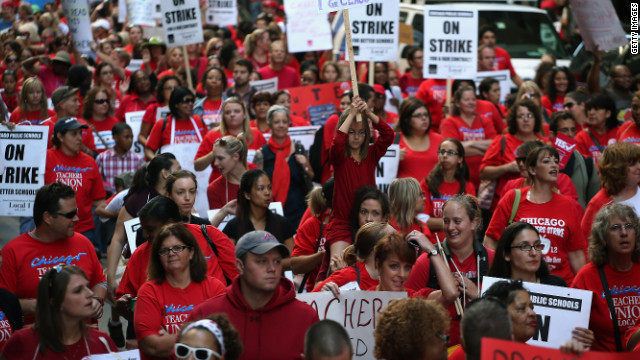 With all of the tension building up in the education system for some time now, it was clear that something had to break soon. This strike is important not only for Chicago, but for teachers across the country. It's vital that their voices are heard and that we truly listen. The education system needs to be reformed, and we should trust that teachers know what is best for their students. The Chicago teachers on strike all agree: they want to get back into the classroom as soon as possible. Instead of treating teachers and unions like the enemies, politicians need to be willing to work with them to find the best solution.