Politicians need a lot of favors to reach their lofty positions, including endorsements, publicity, and most of all, funding- the 2012 election is expected to be the most expensive in our history. After election season, a successful candidate's supporters will expect some sort of return on their investment. If, in this sense, a favor effectively creates a debt, then that means our public servants are in debt to hundreds, maybe thousands of outside individuals and groups, whose interests could well be a far cry from the common good.
In 1999, Alabama Governor Don Siegelman's controversial proposal to institute state lottery was up for referendum. Richard Scrushy, owner of a for-profit healthcare corporation, donated $500,000 in support of referendum effort, and Siegelman subsequently re-appointed Scrushy to the state hospital planning board he sat on.
Whenever two powerful people do each other "favors" like this, allegations of illegal quid pro quo arrangements are sure to follow, and eventually, the Department of Justice decided to investigate. Both men were found guilty of bribery in 2007, and Siegelman's career officially ended when the Supreme Court refused to hear his appeal. Either way, this particular case was hardly an ideal cause for reform advocates- there are compelling allegations that the Justice Department's interest in Siegelman was politically motivated. Furthermore, given the Court's record, a successful appeal may well have further weakened our already anemic campaign finance laws.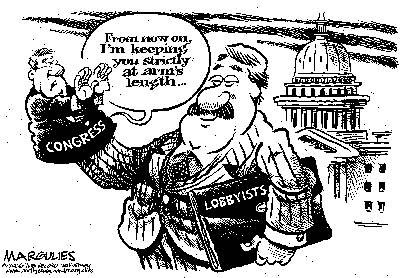 During his case, Siegelman notably argued that "If I had known I was coming close to the line where a campaign contribution becomes a bribe and a crime, I would have stopped." Which begs the question- where exactly is this line? To investigators' knowledge, Siegelman and Scrushy never made an explicit quid pro quo exchanging $500,000 for the board position, but jurors still felt confident that a bribe took place. Critics point out that Scrushy might have been re-appointed without his donation, while others point out that the 500 grand certainly didn't hurt his chances.
One person who doesn't see any line between bribery and campaign donations has plenty of experience with both- disgraced ex-lobbyist Jack Abramoff. Since his convictions, Abramoff has explained that the principle of reciprocity allows lawmakers still see themselves as independent, even as the public easily recognizes how bought and sold the system truly is.
When it comes time for lawmakers repay the favors that got them into office, it comes out of the public trust- according to Abramoff, the "the true debtor on these obligations is the American people." This is antithetical to democracy, and lies at the core of many of our government's most high-profile failures to protect the public interest.
Although Abramoff's history sheds some incredulity on his evolution from insider lobbyist to populist crusader, his insights straight from the horse-trader's mouth are compelling nonetheless. The greater question is then whether there is truly a difference between quid pro quo bribery and reciprocity. Whether there is a legal difference between the two would seem like an easier question, but as it turns out, these same ambiguities persist.
Dr. Richard Pildes filed an amicus brief in the Siegelman case, pointing out how scenarios like this can cast "protected political activity", like campaign donations or endorsements, as part of a quid pro quo. It would be difficult, not to mention unwise, to completely extirpate reciprocity from our politics- coordination between like-minded interest groups and lawmakers is a vital way for otherwise marginalized constituencies to make themselves heard in a representative democracy.
Still, without clear delineations of what is and is not acceptable, political considerations, rather than the rule of law, will determine who is and is not punished in cases like Siegelman's. Figuring out which sort of mutually beneficial relationships are bribery, and which are protected political activity, not to mention pushing new regulations through our gridlocked Congress is easier said than done.
Still, the alternative of letting arbitrary politics decide who gets prosecuted makes a mockery of justice. But by the time crooked politicians actually end up in jail, the damage is already done. Corruption needs to be stopped before it happens, not just punished at its most egregious. 
This means taking steps to cut down on the number of favors politicians need to win office, as well as fighting Washington's culture of corruption that encourages our leaders to put special interests first. The specifics should be familiar to our readers- public financing of elections, stricter transparency and disclosure requirements, and voting out politicians who stand in the way of either of these.
At the end of the day, whether we call it a bribe, a contribution, or a favor, if our leaders are accountable to anyone besides the voters who put them in office, we're in real trouble. After all, the fate of our democracy is in our hands- if we don't force politicians to put us ahead of their insider buddies, then we shouldn't be surprised with what we get.